In the words of Big Daddy Kane: "Managing social media ain't easy."
There are countless channels: Twitter, Facebook, Instagram, Snapchat, TikTok, LinkedIn, just to name a few. Posts to write. Graphics to design. Reels to film. Cats to meme. The list goes on and on.
To stay on top of it all… well, it's a full-time job. But AI for social media can make it a whole lot more manageable.
Artificial intelligence can help you handle many tasks quickly, easily, and in bulk. That means you can plan, produce, schedule, and monitor your content faster—so you can get back to doom-scrolling with the rest of us.
Wanna learn how to use AI in your social media marketing? Let's get into it.
What is AI for social media?
In the simplest terms, social media AI refers to tools that can simulate human intelligence to automate and optimize aspects of social media marketing.
Basically, artificial intelligence means "machines doing things that usually require real, live people." Things like analyzing data sets, amalgamating large quantities of information or data, calculating large sums and probabilities… that sorta stuff. So, when you hear terms like "AI marketing" or "AI in social media," people are talking about AI (machines that can replicate human intelligence) specifically for marketing purposes.
But AI isn't a replacement for social media marketers. These AI tools augment your social media expertise to help you do your job more efficiently, increasing the speed of things like content creation and audience analysis.
Think of AI like a superpower. Only, instead of being bitten by a radioactive spider, imagine you've been bitten by a radioactive Instagram influencer—and now you can do your job five or ten times faster.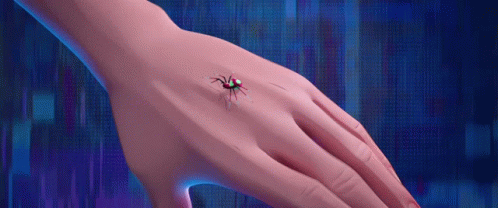 (But jokes aside: If an influencer bites you, definitely get that checked out by a professional.)
How is AI used in social media?
AI has all sorts of applications for marketing. It can write ads, landing pages, and even complex code. It can design images, create and edit videos, transcribe audio, and much more. And AI can do all of these things for social media, too.
Here are just some of the ways you can use AI in your social media marketing:
Create social content. By now, we've all seen some kind of AI-generated content. These AI copywriting tools can write entire social posts, even customizing the messaging for your target audience and driving higher engagement. AI can also create images and videos, helping you pump out a steady stream of new content.
Provide customer service. AI chatbots are totally changing the way folks interact with brands online. You can use AI to instantly address support requests and frequently asked questions, providing faster response times and reducing the workload on human customer service reps.
Identify new trends. Wanna stay in the know? AI can identify emerging patterns and viral topics across social platforms, giving you the most up-to-date info on popular topics and ensuring your content is always super relevant.
Analyze brand sentiment. AI tools can sort through posts, comments, and reviews to provide insight into how your people feel about your products or services. This information can give you a deeper understanding of your audience and inform ways you might improve the perception of your brand.
Target social ads. With its ability to analyze huge amounts of user data, AI can predict the type of content your audience will engage with and suggest which ads are most likely to convert—meaning a better return on ad spend.
And it's not just marketers using AI on social media. Today, many social platforms are using AI themselves. From LinkedIn's job and connection suggestions to Facebook's targeted ads and content recommendations, AI is the driving force that powers our increasingly personalized, user-focused social media experiences.
What are the benefits of AI for social media?
Maybe the benefits of AI for social are best summed up with an emoji: 🤑
There are an estimated 4.89 billion social media users today, and that number is projected to grow to 5.85 billion by 2027. And the market share of AI in social media was worth almost $992.7 million in 2021, expected to grow to $12 billion by 2031—which means we're gonna see a lot more AI for platforms like Facebook and LinkedIn over the coming years.
As a social media marketer, you need to understand how to use these AI tools effectively. That's the only way to ensure you're harnessing the full power of AI to achieve your campaign goals and maximize your marketing ROI.
Some of the key benefits of using AI include:
Save time: With AI, you can create content in batches and schedule it days, weeks, or even months ahead of time. This gives you the freedom to concentrate on fine-tuning your strategy, analyzing what's working (and what's not), adjusting campaigns for peak performance, and so much more.
Reduce costs: AI doesn't need food, doesn't sleep, and doesn't call in "sick" when it's sunny outside. It can post content during off-hours, write the content of posts for you, and analyze your data in the background—all tasks that might otherwise require additional headcount.
Improve results: AI's analytical capabilities can identify the aspects of your campaigns that might not be performing as expected. It can support with testing (or let you optimize for conversions automatically), ensuring that your social media marketing is getting maximum engagement and conversions.
AI isn't just another trend—it's a social media game-changer. And with the right AI marketing tools, it can totally transform the way you work.
Best AI tools for social media
Nowadays, marketers use AI tools for so many different parts of their job: email marketing, SEO, data analytics, optimization, customer support—and, of course—social media.
Here are just a few examples of AI-powered tools for social media marketers:
1. AI social media writing tool: Smart Copy (Unbounce)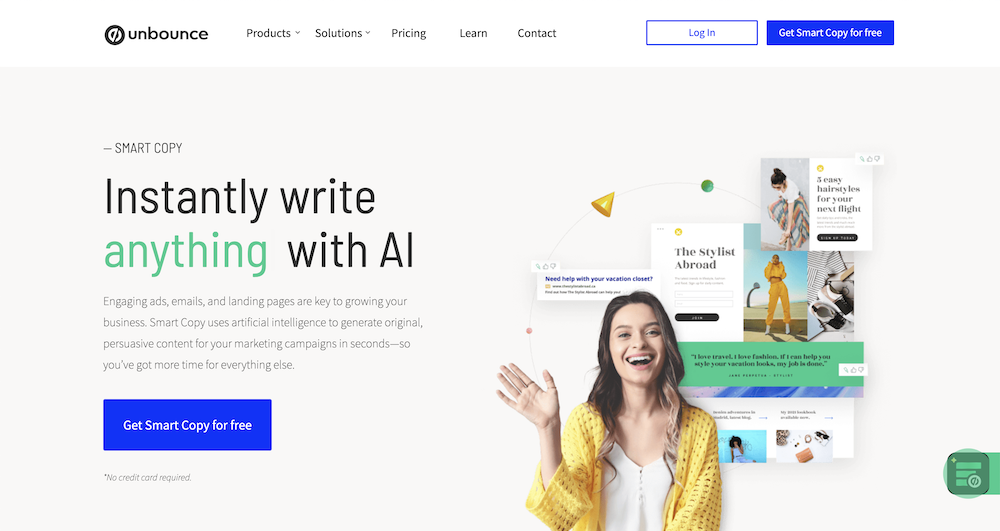 Smart Copy is Unbounce's gift to the blinking cursor of doom. Social media managers know the existential crisis that occurs when they've gotta write dozens of engaging posts for each social channel (and brand, if you manage more than one). And you've gotta do it each and every week.
With Smart Copy, it's a whole lot easier. Choose from one of 45+ AI copy templates, add some basic info, wave your magic wand (or, ahem, click the button), and get all the content you need in seconds. Choose your favorite versions, copy 'em into your social scheduling tool, and presto—you've got your weekly content sorted.
Smart Copy isn't just for social media, either. You can use this AI writing tool to write your copy for your entire campaign, from landing pages to emails and everything in between. (Talk about time-savings, huh?) And best of all, you can use Smart Copy for free—right now.
2. AI design tool: Magic Design (Canva)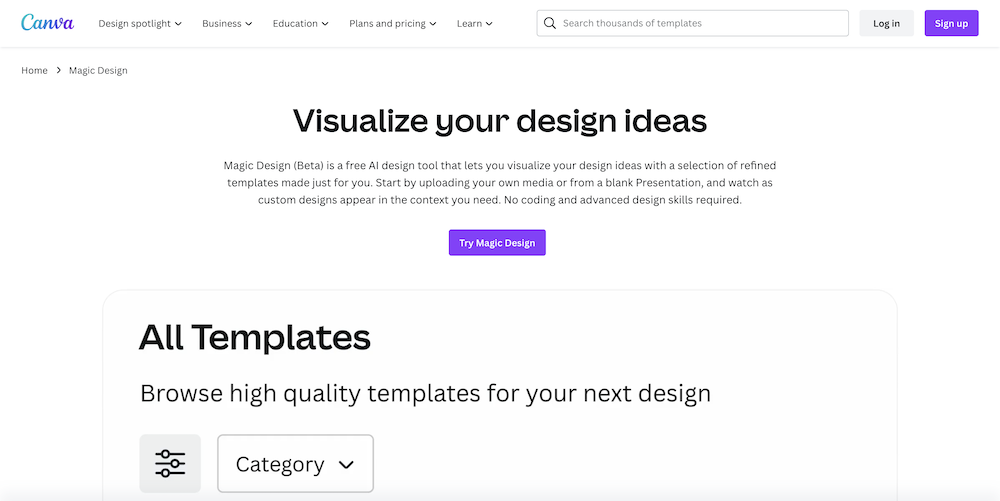 If you need a lil' help designing social graphics, Canva has the AI tool for you. Magic Design promises to help make you spin up attention-grabbing images faster and easier than ever before.
Using Magic Design is as simple as uploading your own media, then prompting it to create any number of unique and custom designs. And just like Canva's other products, you don't have to be a graphic designer to be able to create beautiful, on-brand collateral that can be resized with the click of a button for all the social media channels you use.
3. AI posting and scheduling tool: ViralPost (Sprout Social)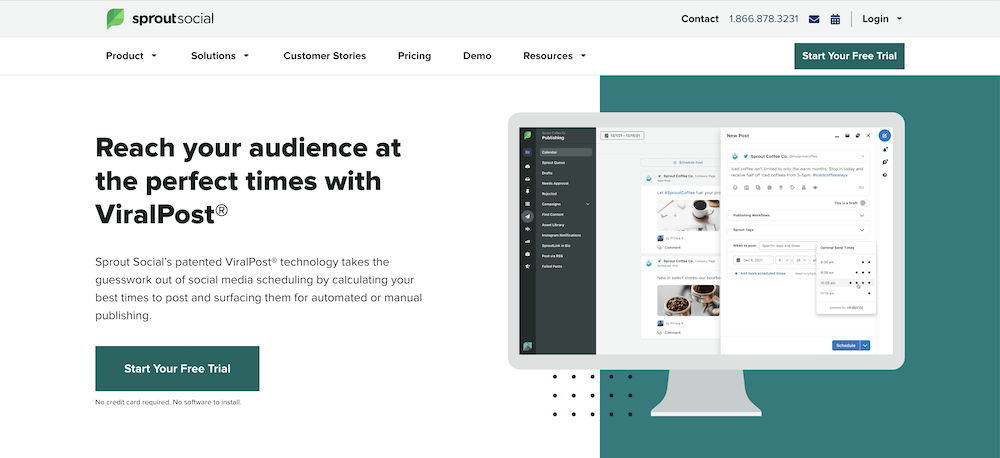 AI isn't just about writing content or designing images. Data analysis is a crucial aspect of social media management—and AI can help with that, too.
When you're scheduling content weeks or months out, it can be hard to decide the best times to post on each social channel. ViralPost from Sprout Social uses AI to analyze your audience engagement data and determine the optimal posting times for your brand, simplifying your scheduling process and maximizing your reach.
4. AI social media analytics tool: ContentStudio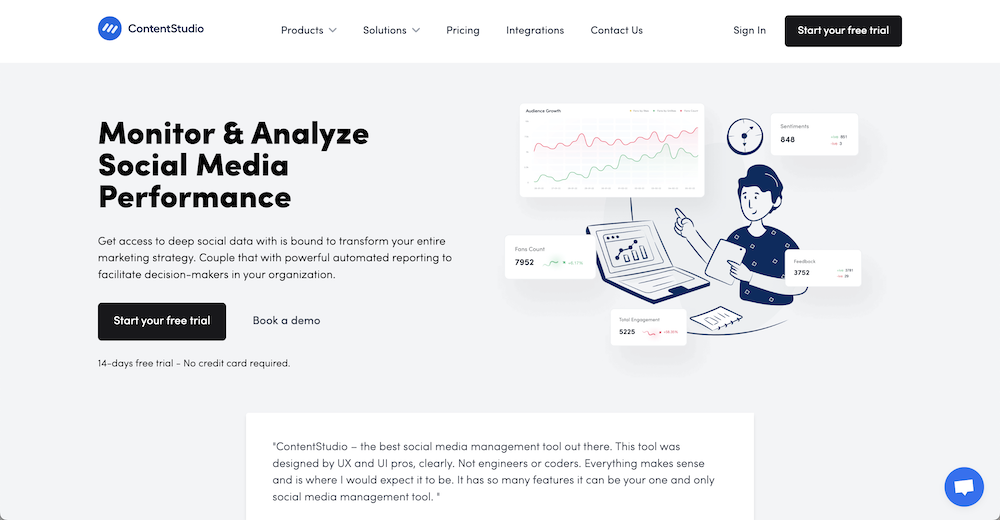 Speaking of analyzing data: ContentStudio reports everything you need to know about the performance of your social media accounts across every channel. Get daily AI-powered insights, create and share customizable reports—all as part of a platform that includes post-scheduling and AI content generation.
5. AI social listening tool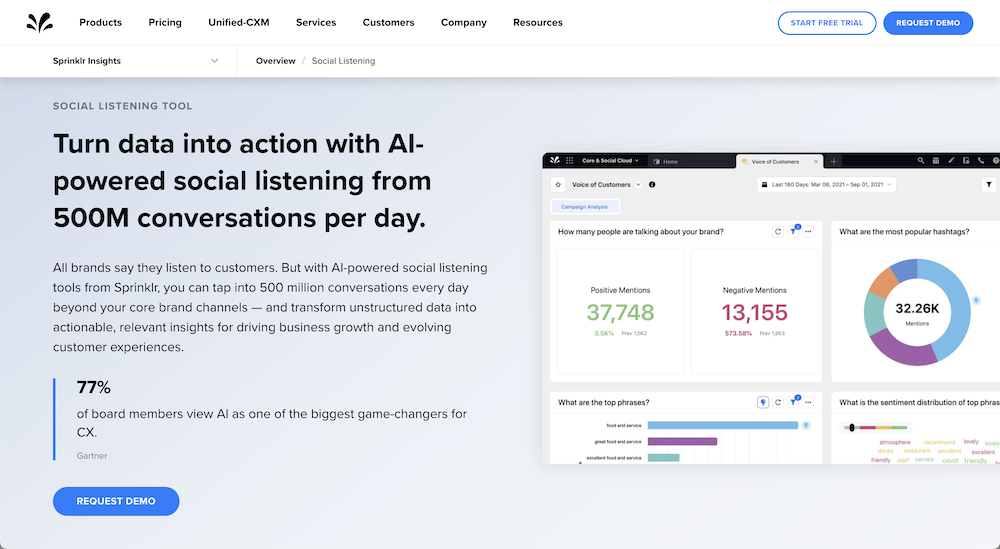 If your social media strategy includes frequent engagement across a bunch of platforms, then social listening is imperative—but it can also be kinda tedious.
Tools like Sprinklr use AI and machine learning to do the social listening for you, helping you identify topics, trends, and even influencers that are most important to your customers and prospects.
6. AI sentiment analysis tool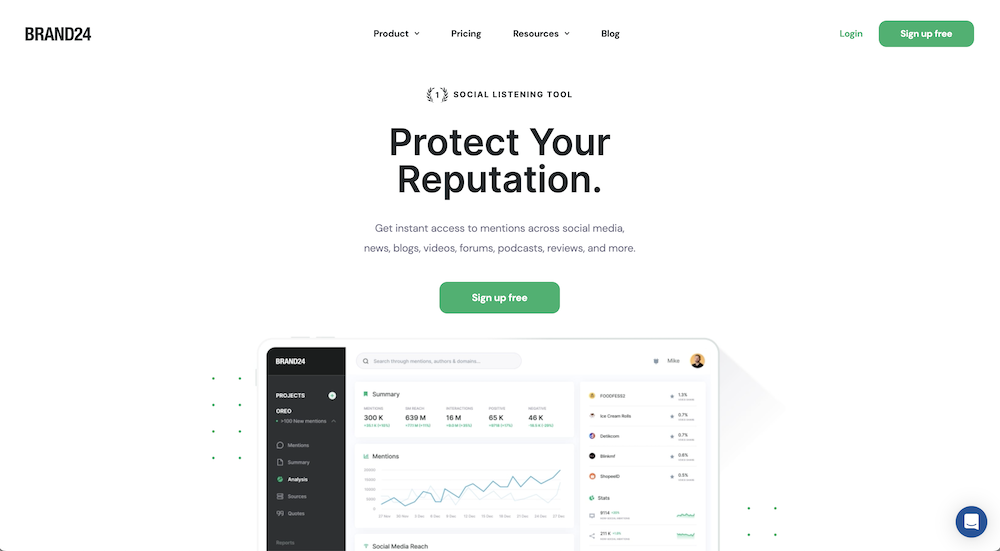 Are people generally happy with your brand? Do they associate your brand with positive or negative emotions?
Figuring that out over several channels can be daunting. Brand24 does it for you across social networks, forums, news channels, podcasts, and even blogs and newsletters, so you can analyze all the different emotions associated with your brand.
AI is transforming social media—and marketers need to get ready
None of these tools are gonna transform marketing—let alone social media—on their own. But together, they demonstrate the beginning of an enormous change in how we create content, analyze information, and engage with our audiences online. As AI continues to improve (and as we get better at using it), it's clear that the way we do social media marketing is going to be totally transformed.
AI is poised to redefine our strategies, making them more personalized, more streamlined, and more data-driven. It'll help us understand our audiences on a deeper level, create more engaging content, and optimize our campaigns based on real-time insights.
Marketing is changing—and marketers need to change with it. Those who learn to work with AI will be the best equipped for the next era of social media marketing.