Great marketers eat, sleep, and breathe KPIs—so it's only natural that they're always lookin' for ways to optimize their campaigns and gain better results. These days, lots of them are adopting AI marketing tools that help them make data-backed decisions, streamline and automate their processes, and create higher-performing content.
AI marketing doesn't mean the end of real, flesh-and-blood marketers. In fact, these tools are making marketers more effective. With loads of different applications (from research and analytics to copywriting and design), AI is quickly becoming a part of the everyday marketing toolstack. If you're not using AI tools already, it's high time you start exploring before you're left in the digital dust.
But before you jump on the AI bandwagon, you'll wanna ask yourself a few questions. What do you hope to get from AI? How could it support you in reaching your marketing goals? What inefficiencies or bottlenecks could it solve for your team? When choosing AI marketing tools, it's important to be super clear about the problem you're trying to solve—then use an AI tool that'll get the job done.
There's no denying the benefits of AI in digital marketing. AI tools save you time and money, help you increase your productivity, and get you more conversions. It's kinda like teamin' up with the Transformers. But does your marketing campaign need Optimus Prime, or would Bumblebee do the job? Perhaps Jazz or Sideswipe are a better fit for the task?
Choosing the right AI marketing tool is key. And today, we're gonna make it a little easier.
Check out some of the best AI marketing tools available today:
AI tools for copywriting and content marketing
Using an AI copywriting tool is like having your own personal writing assistant—but without the constant need to eat and sleep. (Humans. So delicate.) You're the boss, and AI is your trusty sidekick who's always ready to crank out some killa' content for you. (Or, at the very least, do some of the more time-consuming work for you.)
All you have to do is set the parameters for the content you want—like an editor giving instructions—and the tool will take it from there. Most AI copywriting tools can generate social media posts, Google ads, product descriptions, and everything in between.
1. Smart Copy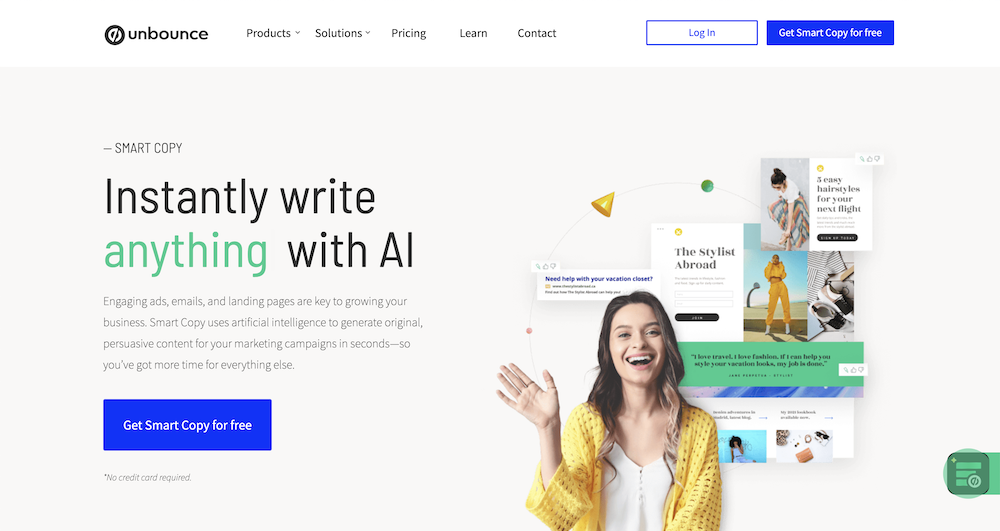 We'd be fools—fools!—not to tell you about Smart Copy. Smart Copy uses some of the most advanced machine learning models to create on-brand, human-grade content for any marketing channel.
Paired with Unbounce landing pages and AI optimization tech, you can use Smart Copy to spin up page variants super fast and provide the highest-converting experiences for your visitors.
Key Features:
Writes engaging and high-quality content in over 45 templates—social media, ad copy, websites, blogs, taglines, you name it
Allows you to tailor copy for specific audiences or industries, as well as in particular tones or styles, ensuring your content matches your brand
Generates whole-page copy for landing pages and provides different variants (perfect for use with Unbounce landing pages)
Provides both a Google Chrome extension and downloadable desktop app, making it easy to generate content just about anywhere
Pricing: Freemium, then starting at $9/month
2. Jasper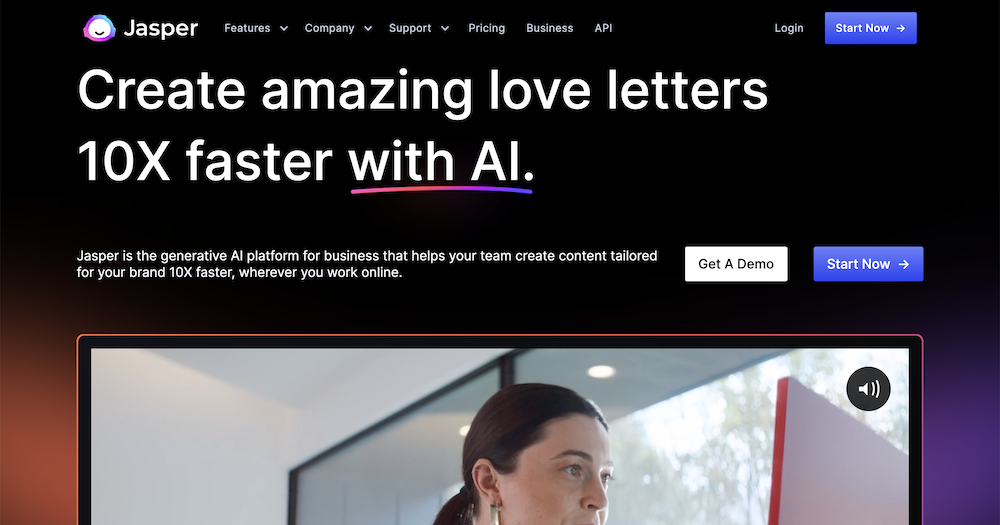 Jasper is one of the more popular AI copywriting tools on the market. Since 2021, content creators from every walk of life (stroke of key?) have been using it to work through writer's block and generate original content like, ten times faster. Plus, the platform recently added the ability to generate royalty-free images—perfect for pairing with your AI-generated ad and email copy.
Key Features:
Generates well-structured, SEO-optimized copy in 50+ templates that can help you rank higher
Provides content generation in more than 30 languages—oui, c'est vrai!—making it perfect for marketing teams targeting a global audience
Comes with a built-in AI art generator as part of its higher-tiered pricing plans, letting you write copy and create images from a single platform
Pricing: Starting at $29/month
3. Copy.ai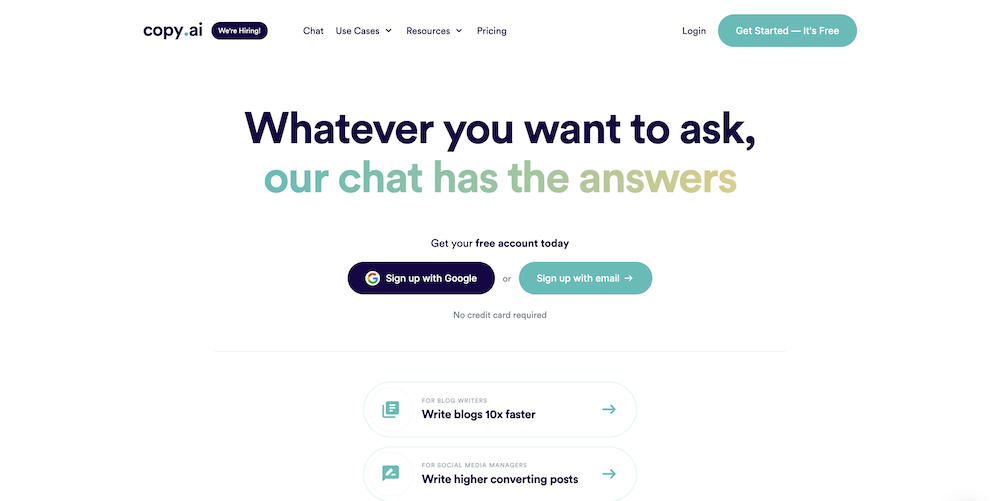 Copy.ai positions itself as a more affordable option than Jasper. (Fight! Fight!) The AI writing tool generates copy for blog posts, ads, social media, websites, ecommerce, and more—much like Jasper. However, Copy.ai claims its competitor gates many features behind more expensive plans—which means they're the budget-savvy alternative, without any usage limits.
Key Features:
Provides more than 90 copy generation templates to streamline the creation process for just about type of content
Generates content in 25 different languages, helping marketers spin up copy for campaigns targeting a global audience
Offers a Google Chrome extension (so you don't have to waste time flipping between platforms)
Pricing: Freemium, then starting at $49/month
4. Grammarly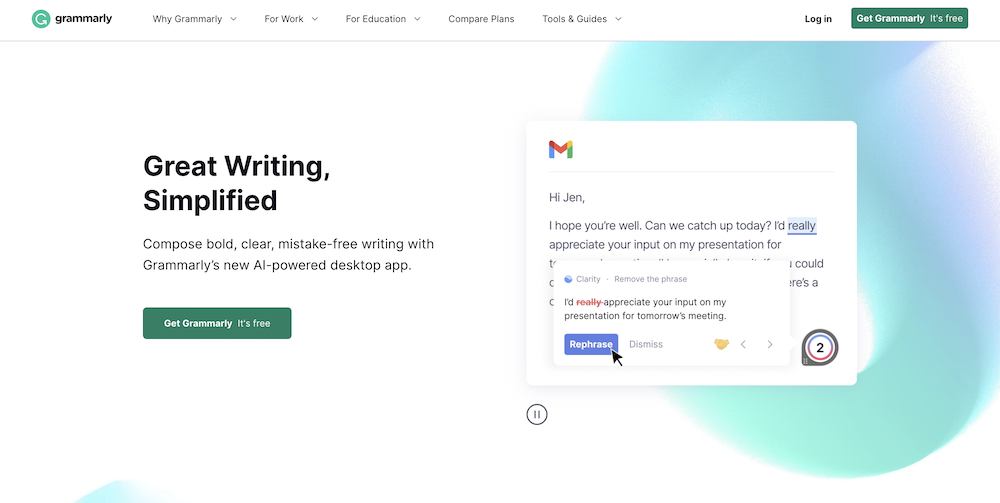 Grammarly has come a long way. Marketers have been using the tool for years to review spelling, check grammar, and make suggestions on clarity and brevity. In March 2023, Grammarly announced GrammarlyGo—its "faster and smarter writing assistant"—which considers the user's preferences and context and produce more tailored content.
Key Features:
Offers some of the most thorough grammar, spelling, and punctuation tools available on the market
Helps you ensure your content is totally original by detecting duplicate content and potential plagiarism across the web
Provides suggestions for ways you can improve the overall tone and clarity of your writing, leveling up the quality of your content
Pricing: Freemium, then starting at $12/month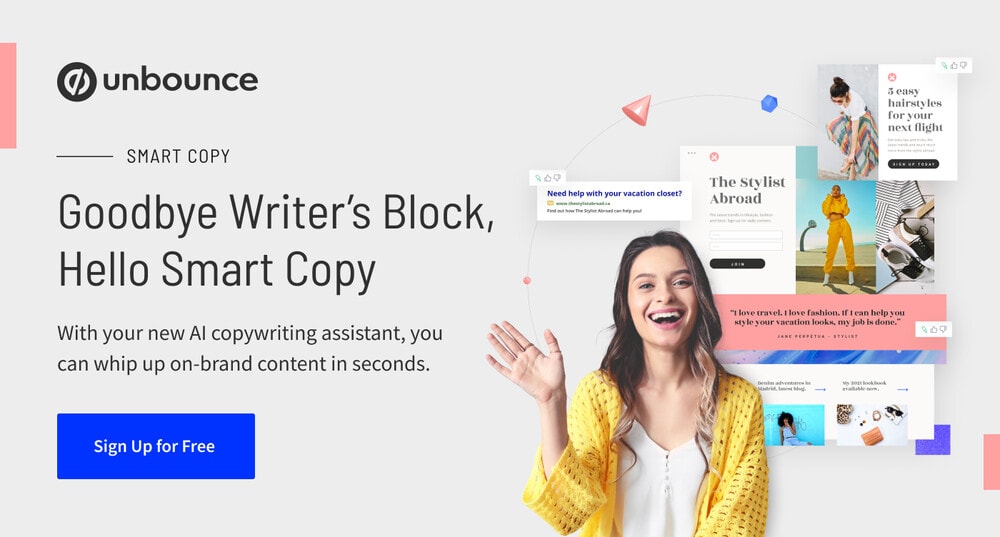 AI marketing tools for email
Email marketing is a tough nut to crack. You might spend hours crafting the perfect email, tweakin' your subject line, only to get an open rate lower than the chance of being struck by lightning. (That's roughly 1 in 15,000, by the way.)
But fear not! AI-powered email marketing tools are here to save the day.
With AI, you can personalize your emails, increase open and click rates, and even convert those pesky unread-ers into loyal customers. These tools can also analyze huge amounts of data, giving you insights into your campaigns that you never even knew existed.
5. Mailchimp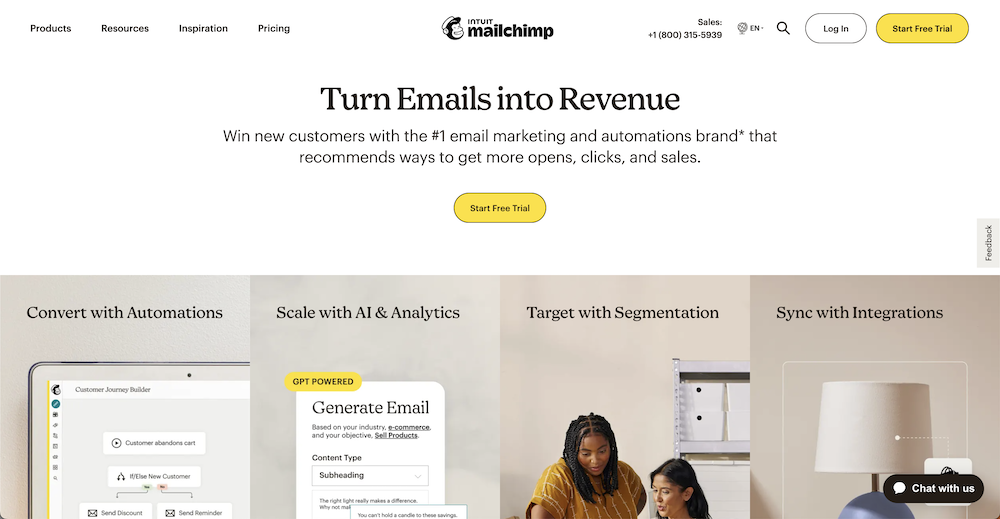 Mailchimp is probably the world's most well-known email marketing platform. ("Mail… Kimp?") Though you could consider them email marketing vets at this point, they're anything but old school. Mailchimp boasts an integrated analytics suite that helps you track your email open rates, click rates, unsubscribes, and more. They also offer robust AI-powered features that can help you track customer purchase behavior and split test subject lines.
Key Features:
Provides AI-powered customer insights, including demographic, engagement, behavioral, and sentiment
Helps you personalize your content with data collected and analyzed by AI, delivering a better experience for recipients
Offers a customer journey builder that helps you map out personalized experiences based on how people interact with your business
Pricing: Freemium, then starting at $12/month
6. Optimove

Optimove offers a cloud-based email marketing software that delivers hyper-personalized and targeted emails. Its AI technology automatically adapts email content to customers' preferences and behavior and gives marketers a more sophisticated analysis of customer engagement and what drives conversions. Optibot, their built-in marketing optimization bot, identifies performance-boosting opportunities and helps marketers get the most out of their campaigns.
Key Features:
Helps you tailor your marketing strategy through comprehensive historical, real-time, and predictive data insights—powered by AI
Provides valuable insights into customer behavior and trends, empowering you to make data-driven decisions and improve campaign performance
Lets you create personalized campaigns at scale, ensuring customers only see relevant messages and product recommendations
Pricing: Custom
7. Constant Contact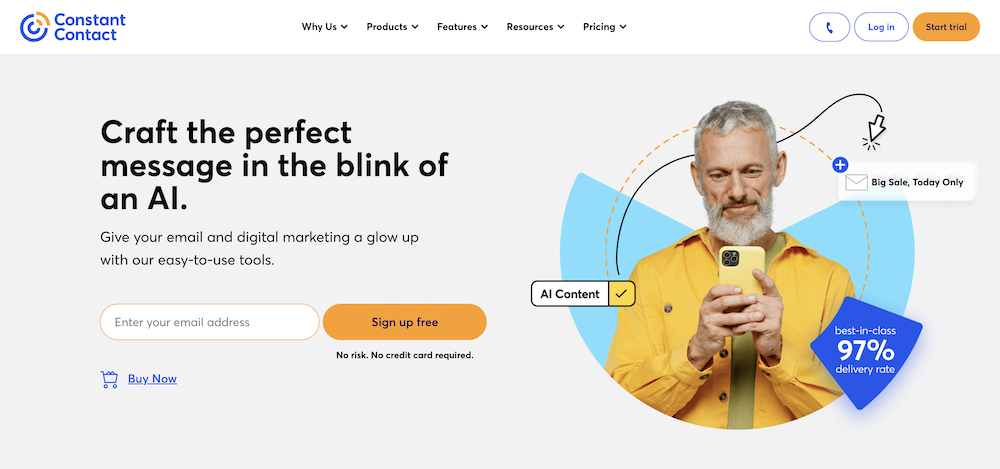 Open rates not lookin' so hot? Let's add a little sparkle to your email marketing game. Constant Contact is an email marketing platform that boasts customizable email templates to help you build campaigns quickly and intuitively. Its AI tools are super-duper helpful in executing campaigns across various platforms like mobile, social media, and desktop email.
Key Features:
Provides an all-in-one platform for managing email marketing campaigns, including hundreds of drag-and-drop email templates for different use cases
Provides comprehensive reporting and tracking features, integrating with popular ecommerce and CRM platforms to streamline your workflows and centralize data
Uses marketing automation and smart technologies to help you engage your audience, expand your reach, and nurture leads
Pricing: Starting at $12/month
AI tools for search engine optimization
If you're not investing in search engine optimization (SEO), your website might as well be stranded on a desert island. SEO is the key to getting your content noticed and attracting those juicy organic clicks. But keepin' up with all that keyword research can be a real challenge.
That's where AI comes in. AI-powered SEO tools can often do all the boring stuff for you, leaving you more time to brainstorm your next big idea. Plus, you'll be able to optimize your content like a pro and adapt to changes on-the-fly. 
Below are some AI marketing tools for SEO that're worth looking into.
8. Surfer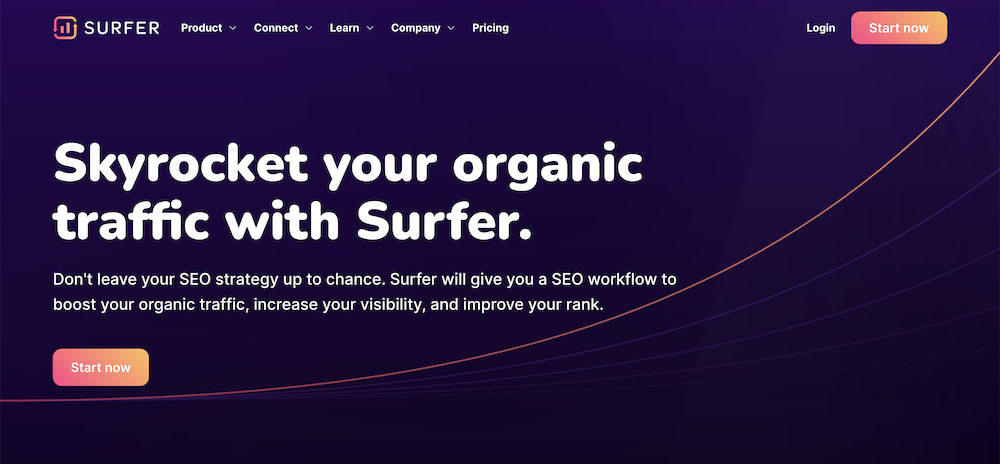 Ready to ride those waves of SEO success? Surfer is an AI-powered optimization tool that boosts your website's visibility and rankings to catch that sweet organic traffic wave. With its content audit and keyword generator, Surfer will help you hang 10 with the best of 'em, identifying prime opportunities for backlinking and giving you real-time feedback on your optimization as you write.
Key Features:
Provides AI-powered content outlining, editing, and optimization to help marketers rank higher in search results
Offers advanced keyword research tools to help you identify the most relevant and valuable keywords in your content planning
Gives marketers real-time feedback on content structure, keyword usage, and other on-page SEO factors
Pricing: Starting at $59/month
9. Semrush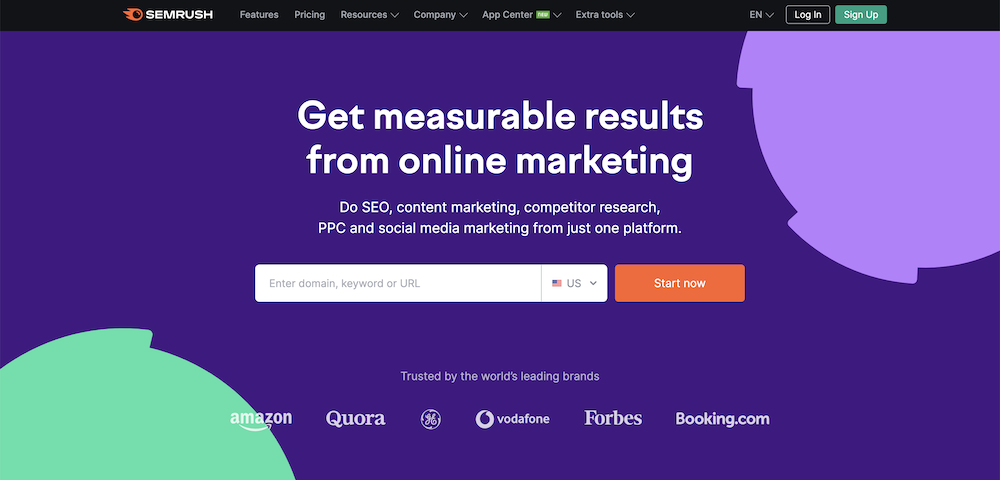 Semrush is an all-in-one SEO marketing tool that can help optimize your content, ads, and social media. It's got a huge keyword and competitor research database, an in-depth content auditing process, and is excellent at identifying backlinking and ranking opportunities. Now, it's also got an AI writing assistant that helps you optimize your content to target keywords and rank higher in search. Need we say more?
Key Features:
Gives you the tools to create and execute a robust content marketing strategy, from creation to distribution
Offers an extensive suite of tools for keyword research, competitor analysis, site audits, and more, helping you improve performance across various channels
Offers competitor tracking and monitoring, such as their top-performing keywords, backlink profiles, and advertising campaigns
Pricing: Starting at $120/month
AI marketing tools for social media
Tired of keeping track of your social media posts manually? Feel like you're stuck in a time warp, constantly checking and re-checking your data?
AI marketing tools are a great way to break outta that social media doldrum. These tools not only help you stay organized, but they also take your marketing efforts to a whole new level by analyzing engagement data and providing real-time insights into your campaign performance.
Consider adding some of these AI social media tools to your toolkit:
10. Later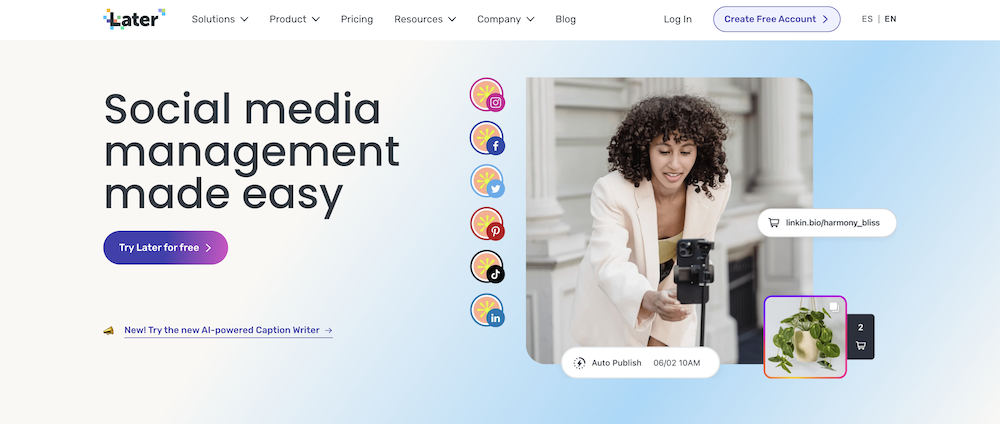 Hey, wanna post that LinkedIn article… later? Later is an AI-powered scheduling tool for social platforms like Facebook, LinkedIn, and Instagram. Using smart features, it analyzes your content to find the right time to share for maximum engagement. The result? A steady stream of top-performing content for social media managers who would love having their weekends back.
Key Features:
Offers AI-generated content to help you create and launch posts across Facebook, Instagram, LinkedIn, and more way faster
Providers a visualized, drag-and-drop social media calendar, letting you plan, organize, and preview your social posts in a super intuitive way
Provides comprehensive analytics that help marketers track the performance of their social campaigns by engagement, reach, and follower growth
Pricing: Starting at $18/month
11. Buffer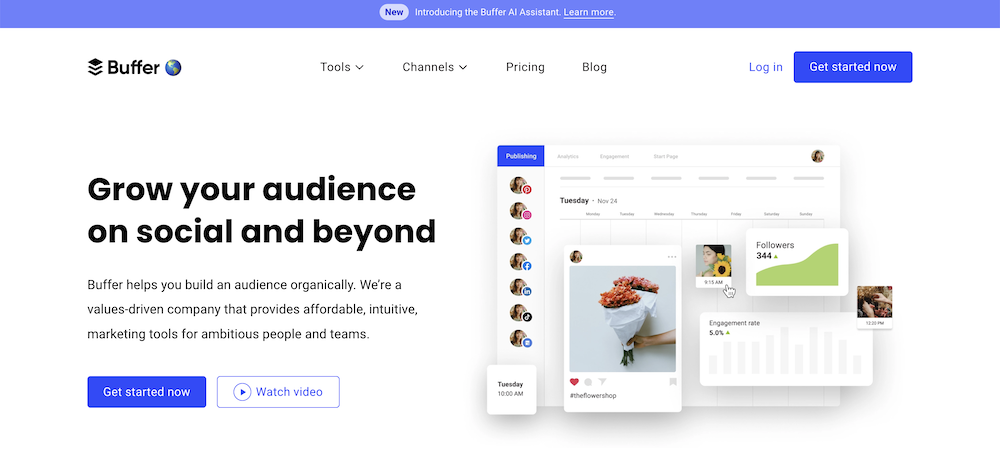 Buffer will have you feeling like a social media pro in no time. With the ability to generate AI content and schedule across multiple platforms from one central dashboard, you'll be able to sit back and let this management tool do the heavy lifting. Plus, with analytics reports from Facebook and LinkedIn, you'll have all the data you need to understand your customers' digital profiles and track your progress over time. Let's get schedulin'.
Key Features:
Writes engaging social media content for you with their AI assistant, accelerating your workflow across all social platforms
Provides comprehensive social analytics to help you identify new insights, plus lets you publish with campaign optimization
Streamlines the campaign and content planning process with efficient workflows and customizable permissions
Pricing: Freemium, then starting at $6/month
12. Hootsuite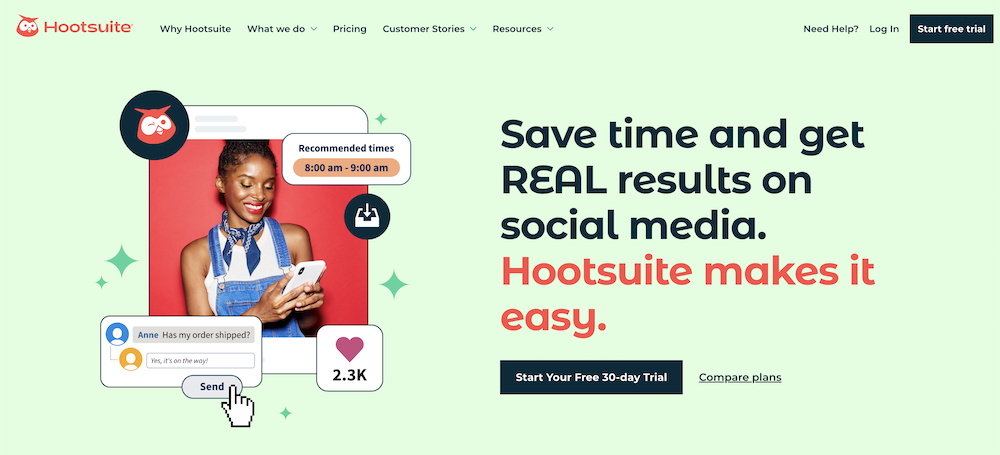 Ah, Hootsuite— the ol' reliable. This is no run-of-the-mill social media platform. Hootsuite is the savvy marketer's secret weapon, and has been around long enough to prove it. The platform offers a social media management tool that provides users with a unified dashboard to craft, schedule, and deploy content across multiple platforms.
Key Features:
Provides a comprehensive dashboard for managing multiple social accounts across different platforms, streamlining the creation, scheduling, and monitoring of social content
Offers built-in collaboration tools and robust analytics and reporting features that give you granular insight into your social performance
Allows marketers to generate social content with AI writing tools for Facebook, Twitter, Instagram, and more
Pricing: Starting at $99/month
13. Emplifi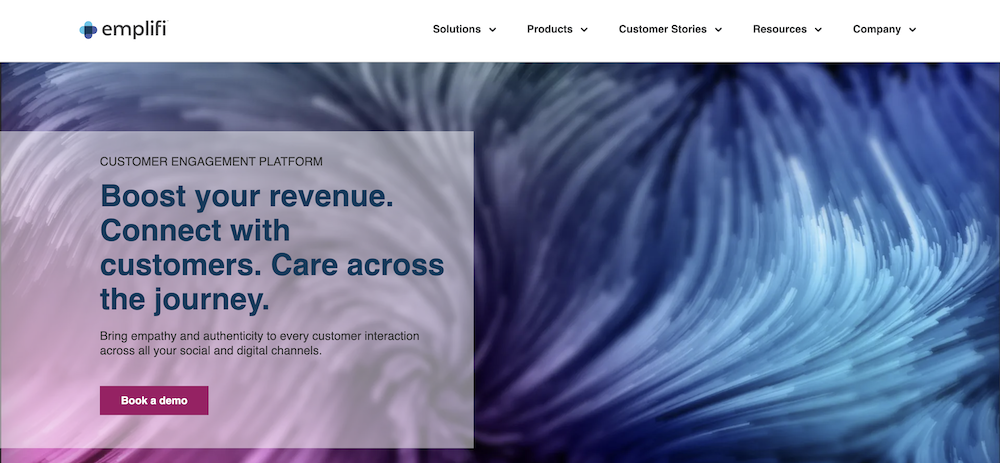 Emplifi is a super robust platform that acts like your personal data analyst for social media. Not only can it track your ROI, but it also gives you a whole suite of tracking features to gather juicy insights about your audience. We're talkin' traffic, metrics, demographics—you name it. Plus, it's got some AI-powered features that help you streamline your workflows.
Key Features:
Provides real-time social community management so you can engage and respond to your audience quickly
Offers multi-channel management with AI-backed recommendations for scheduling and posting
Gives you AI content creation tools to help you craft social posts faster
Pricing: Starting at $240/month
AI marketing tools for design
You know what they say: A picture is worth a thousand words. In marketing, graphic design is the key to delivering a compelling (and high-converting) digital experience. But times are a-changin', which means you gotta embrace AI design tools to stay ahead.
Think of AI design tools as a creative kickstart—a way to supercharge your skills and take your marketing efforts to new heights. They're not here to replace your creative process—they're here to enhance it. With AI-backed design, you can create killer content that will make your competitors green (#00FF00) with envy.
Here are some AI design tools worth checkin' out:
14. DALL-E 2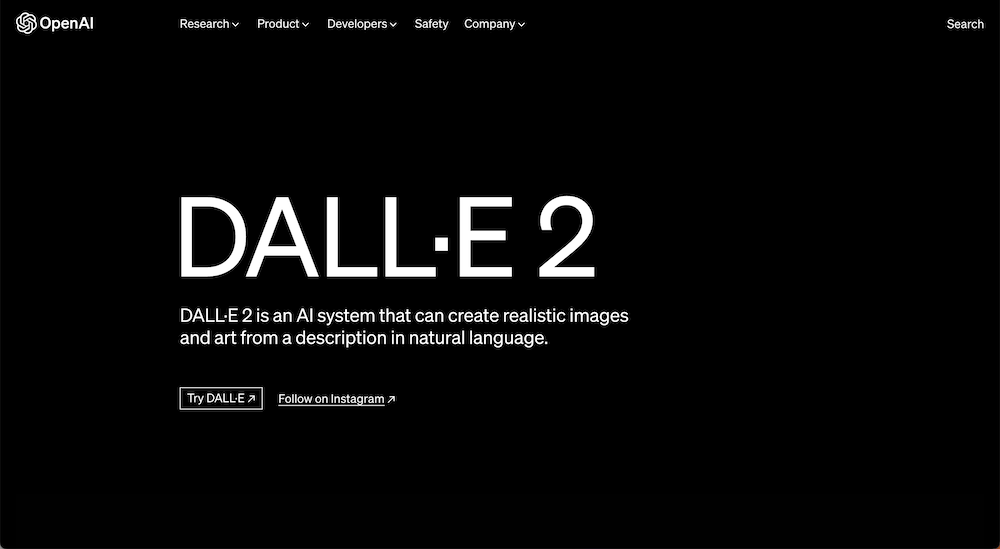 Who hasn't played around with DALL-E? (Seriously, you haven't developed even one creepy image of a dog-headed pickle? You're missing out.)
Developed by OpenAI, DALL-E 2 (the second iteration of DALL-E) is an AI design tool that generates realistic images and artwork from a text prompt. Type what you wanna see, and DALL-E will spin up a few different versions in just a few seconds.
Key Features:
Creates unique and creative visual content for just about anything—all from a text prompt
Simplifies the design process by providing content creators and designers with a quick way to generate images
Allows users to design visuals for specific requirements (through more complex prompts), giving a high level of customization and control
Pricing: Freemium, then pay per use
15. Adobe Sensei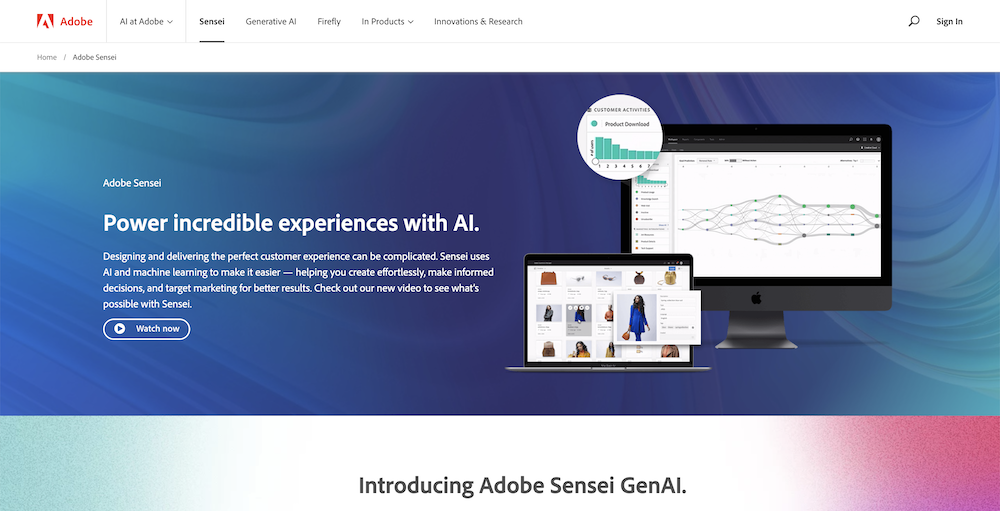 First of all, cool name. 🦗 Adobe Sensei is an AI and machine learning tool that enhances graphics with Adobe Creative Cloud. The tool helps marketing teams streamline their workflows, so they can focus more on the actual creating. Sensei also provides insights on what visuals will perform best, giving a lil boost to those conversion rates. It is a sensei, after all…
Key Features:
Uses AI to streamline creative workflows, enabling you to create better-looking content faster
Automates repetitive tasks and optimizes aspects of content creation, from image selection to typography adjustments
Helps you deliver personalized and targeted content, improving your visitor experience and increasing engagement
Pricing: Custom
16. Jasper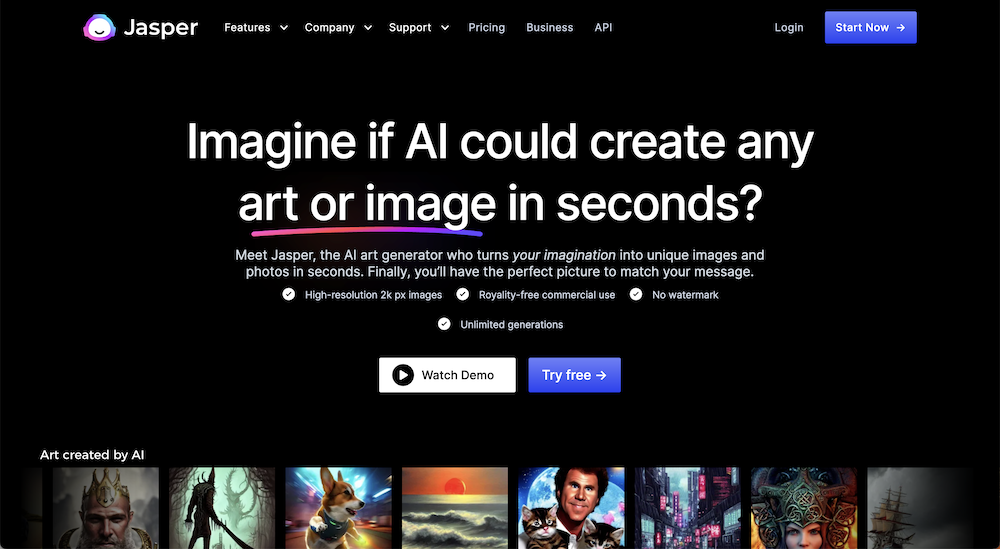 Who said you can't do it all? Not only does Jasper have a copywriting tool, but they've also got an image-generating tool. Users can create high-resolution and copyright-free images in seconds using a text prompt. Talk about the best of both worlds.
Key Features:
Provides stunning, high-resolution images for a whole range of applications
Offers a great alternative for marketers lookin' to break free from the limitations of stock images
Features an intuitive, user-friendly interface that makes the process of designing and generating images a breeze
Pricing: Starting at $20/month
17. Smart Builder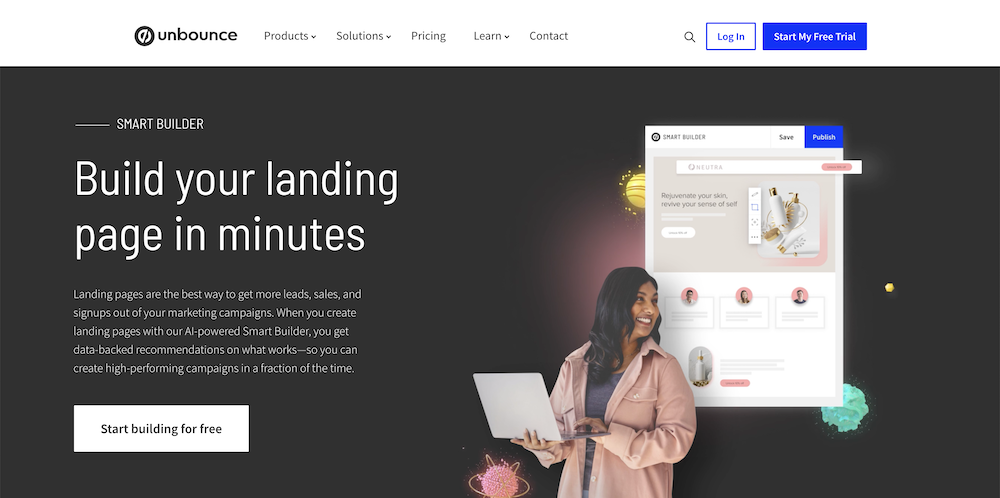 Smart Builder is Unbounce's AI-powered landing page creation tool. Designed to simplify page creation and optimize for conversions, Smart Builder provides a guided creation experience that helps you build higher-performing landing pages right from the get-go.
Key Features:
Leverages AI to recommend higher-converting designs and on-page optimizations, helping you maximize conversions
Offers a drag-and-drop interface that lets you create fully responsive pages with ease—no design or coding experience required
Integrates with popular marketing and CRM systems to facilitate collaboration between teams and streamline lead gen, tracking, and reporting
Pricing: Starting at $99/month
Data analytics tools using AI
Data can be a lot. Analyzing, optimizing, over and over again. It can be overwhelming to make sense of it all. AI tools for marketing analytics are designed to make it all easier.
These tools are like the wise old wizards of the marketing world, revealing insights and understanding that we mere mortals could only dream of. With their help, you can easily gather and analyze data to help make more informed decisions.
Check out these AI-powered analytics tools to take the pain outta data:
18. Tableau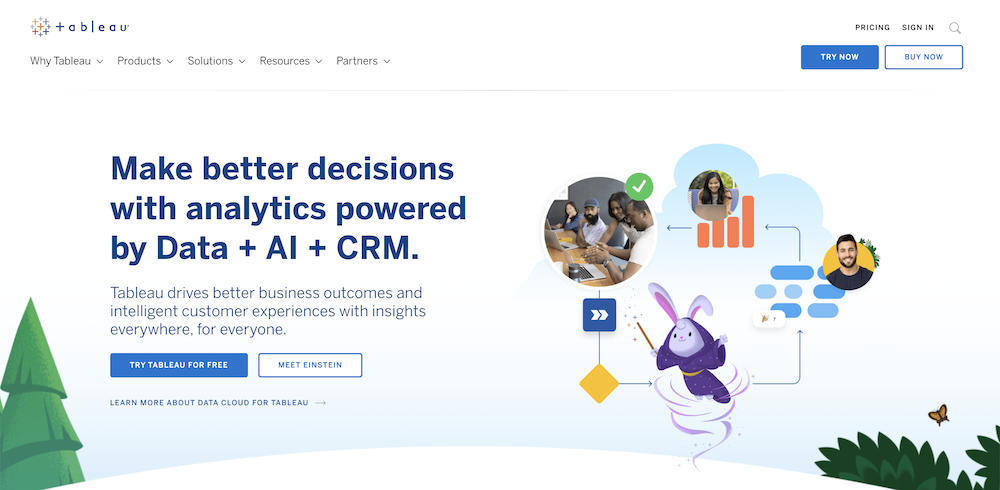 Tableau turns your data into a masterpiece. This AI platform takes the headache outta data analysis with its intuitive data visualization tools. You don't have to know a lick of code, and you can still create stunning visualizations that bring your data to life. And with their integrated AI and machine learning, Tableau makes speeds up data analysis and makes it easier to pull actionable insights. What could be better?
Key Features:
Produces actionable, data-backed insights super fast, including forecasting, clustering, and trend analysis
Lets users create stunning, interactive dashboards and visualizations that are sharable and easy to edit in real-time
Integrates data from a wide range of data sources, including Google, Salesforce, Dropbox, and Cloudera (to name a few)
Pricing: Starting at $70/month
19. Polymer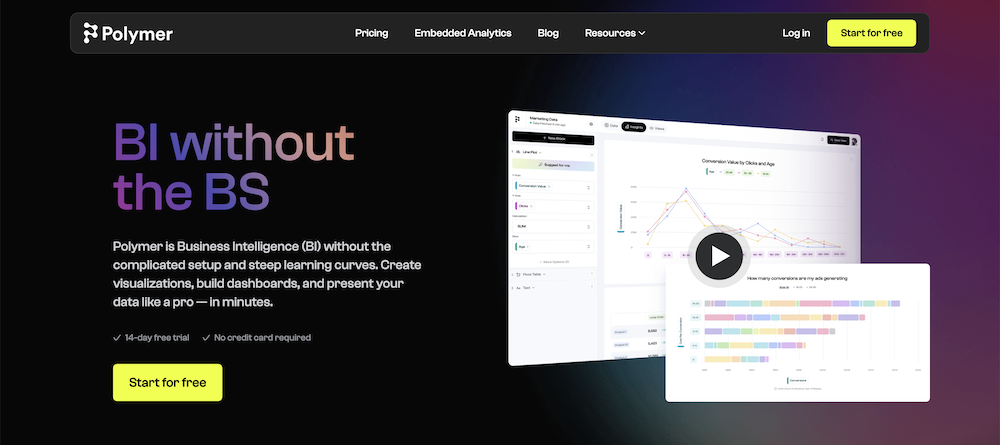 Polymer is another AI analytics tool in the game. They peg themselves as a "no BS" business intelligence tool that help users create dashboards and visualizations in just a few minutes. Not only is their UI super visually appealing, they also have a bunch of great features to top it off.
Key Features:
Uses AI to analyze your data and quickly turn your spreadsheets into easy-to-understand dashboards and visualizations
Provides embeddable dashboards and visualizations and lets users easily add graphs, charts, and other graphics
Integrates with the most popular platforms and makes it easy to import your data
Pricing: Starting at $9/month
20. Microsoft Power BI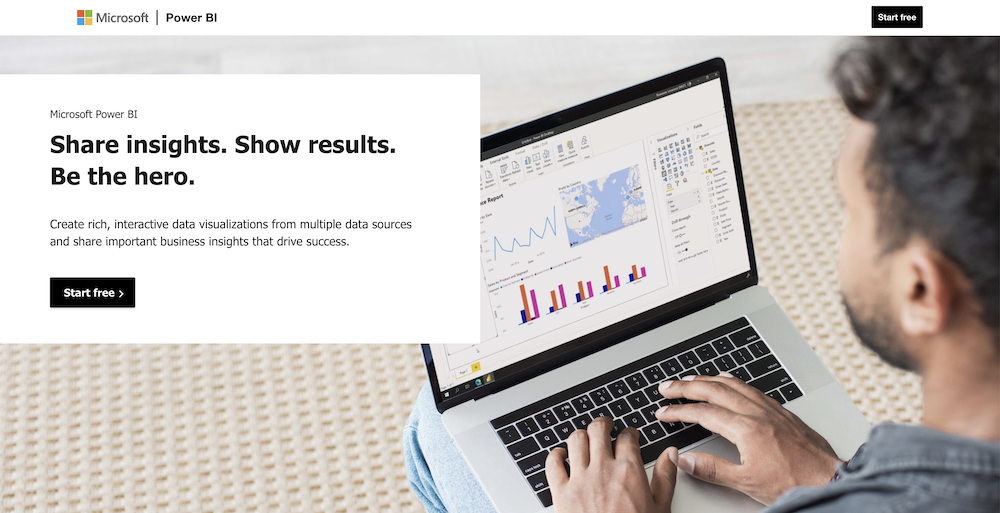 About time to level up your data game, no? Enter Microsoft Power BI. This business intelligence and visualization tool helps you slice, dice, and analyze even the biggest data sets with ease. With the ability to import data from spreadsheets and generate AI-powered reports and dashboards, you'll be able to see your data in a whole new light. So why settle for boring ol' spreadsheets?
Key Features:
Seamlessly integrates with Microsoft products (we're looking at you, Microsoft Excel) and other data sources
Enables users to create visually compelling and interactive dashboards and reports
Provides a scalable solution that caters to businesses of all sizes, giving you a flexible approach to your analytics
Pricing: Starting at $10/month
AI conversion rate optimization tools
With AI-powered conversion rate optimization (CRO), you combine the genius of a data scientist with the persuasive charm of a top-notch salesperson, helping you turn more of your visitors into customers. These smart tools can analyze heaps of data to determine the likelihood of a visitor converting, then optimize the experience to make it even more probable.
Check out the best AI marketing tools that'll help you maximize your conversions:
21. Smart Traffic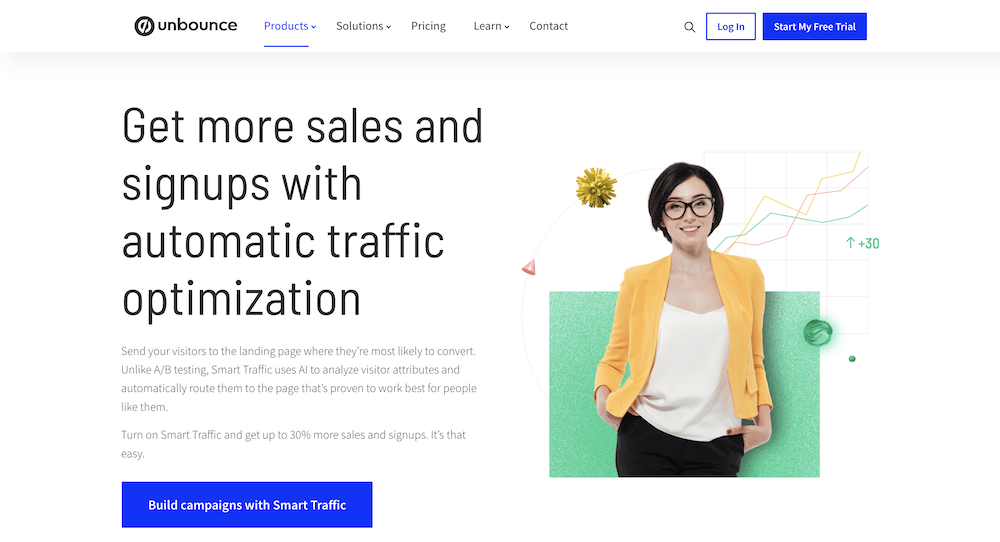 Shameless plug alert. Smart Traffic is our conversion optimization tool. It uses AI to gather audience insights and automatically directs 'em to the landing page where they're most likely convert. While it's not quite the same as A/B testing, the result is often the same: more conversions. And because Smart Traffic learns in as few as 50 visits, you don't have to wait around for weeks until you get enough traffic for a traditional split test
Key Features:
Lets you create and optimize unlimited variants simultaneously, so you can customize headlines, body text, and visuals for every type of customer
Analyzes variant performance and generates recommendations based on audience data (like their location, device, and more)
Learns in as few as 50 visits and gets you (on average) 30% more leads, sales, and signups
Pricing: Starting at $99/month
22. Pathmonk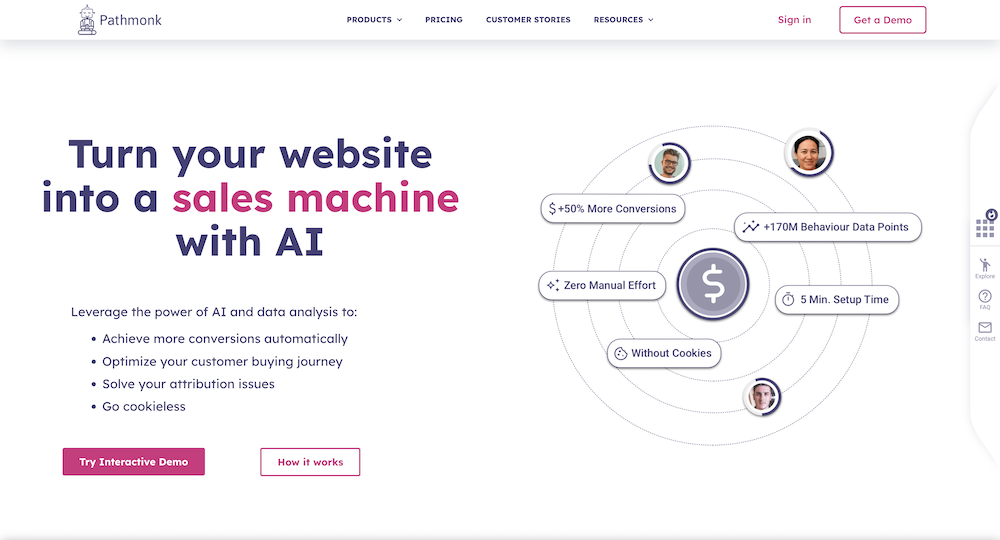 Pathmonk is an AI-driven CRO platform that helps businesses increase their conversions by providing more personalized experiences for visitors. With their advanced algorithms, Pathmonk analyzes user behavior to provide predictive content and comprehensive reporting for real-time performance insights. Plus, it integrates seamlessly with many of the most popular marketing tools and CRM systems.
Key Features:
Uses advanced machine learning to analyze user behavior and deliver personalized experiences that engage and convert
Dynamically adapts content based on user interactions, maximizing conversions and reducing bounce rates
Provides real-time performance insights through a robust analytics dashboard
Pricing: Starting at $450/month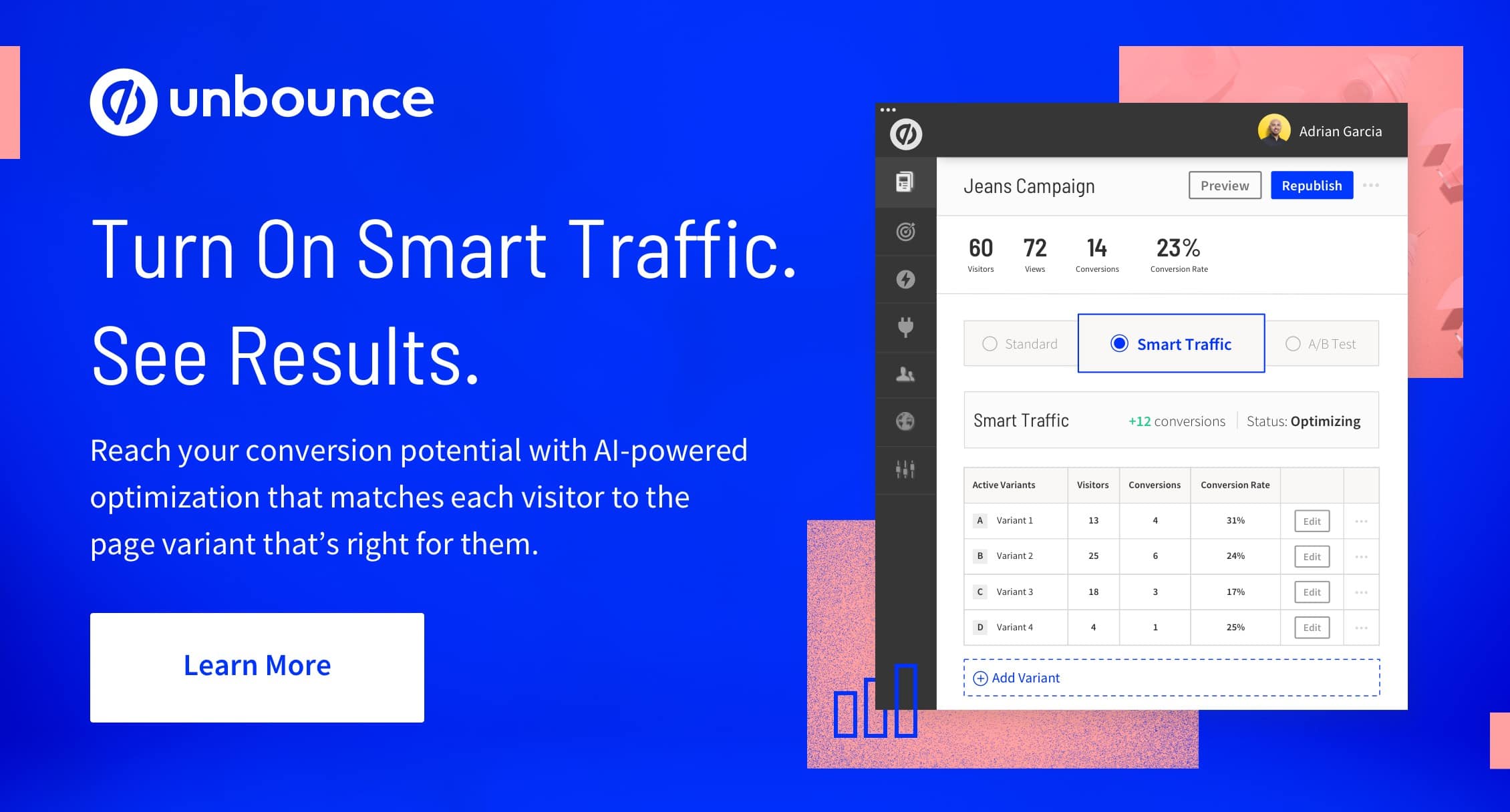 AI marketing tools for customer support and chat
AI chat tools are helpin' businesses and marketers automate customer support by simulating conversion prompted by either text or voice. For us marketers, AI chat tools can be an excellent way to market our products and services by creating a more personalized experience for customers and keeping them engaged.
Here are some top AI chat tools for marketers:
23. Drift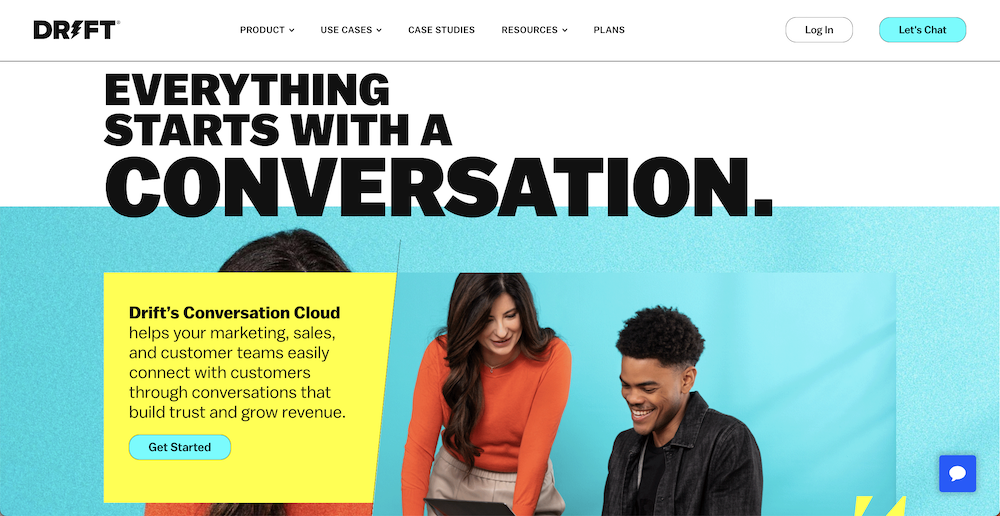 Drift is a great cloud-based AI chat tool created for B2B companies. The AI-powered chatbot provides customers with a more personalized experience and engages with them at every step of their journey. The platform also collects comprehensive user data to provide businesses with actionable insights about customer behavior.
Key Features:
Lets you engage with visitors in real-time through live chat and AI-powered chatbots, improving the user experience
Helps you capture and qualify leads more efficiently by automating initial interactions, gathering information, and connecting visitors with the right person
Leverages AI-driven insights to deliver personalized content and messaging, increasing conversion rates
Pricing: Starting at $2,500/month
24. Zendesk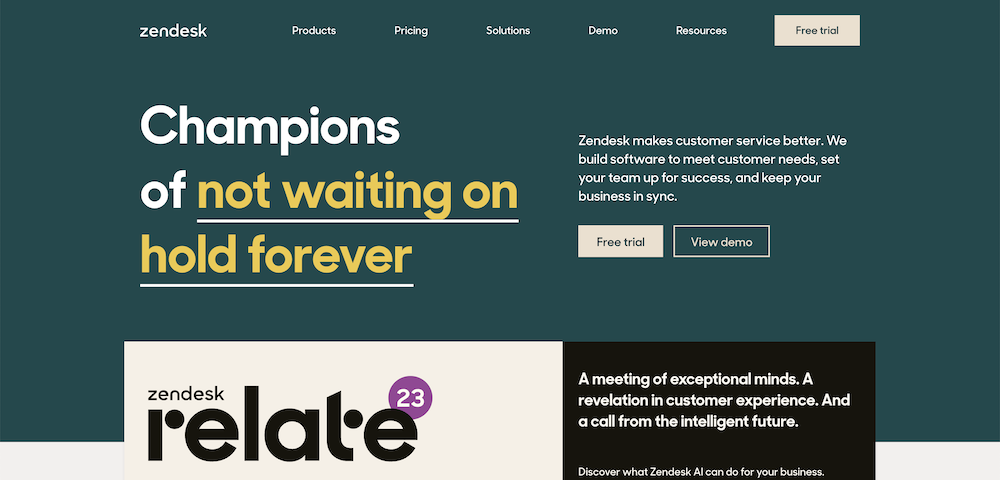 If you're in the market for an AI chat tool that's as user-friendly as it is versatile, look no further than Zendesk. This cloud-based software is the real deal, offering fully customizable options that are just easy as heck to use. Plus, it seamlessly integrates with all sorts of other apps and media, so you can chat from any channel you choose—whether you feel like typing away or gabbing the phone (Assuming you don't have phone anxiety, which… Yeah, us, too.)
Key Features:
Offers a comprehensive customer service solution that consolidates all of your support channels, including email, chat, and social
Lets you customize the platform to suit your needs, ensuring a seamless fit with your existing processes
Provides powerful analytics and reporting tools, helping you track key performance metrics, identify trends, and optimize your support
Pricing: Starting at $295/month
25. Netomi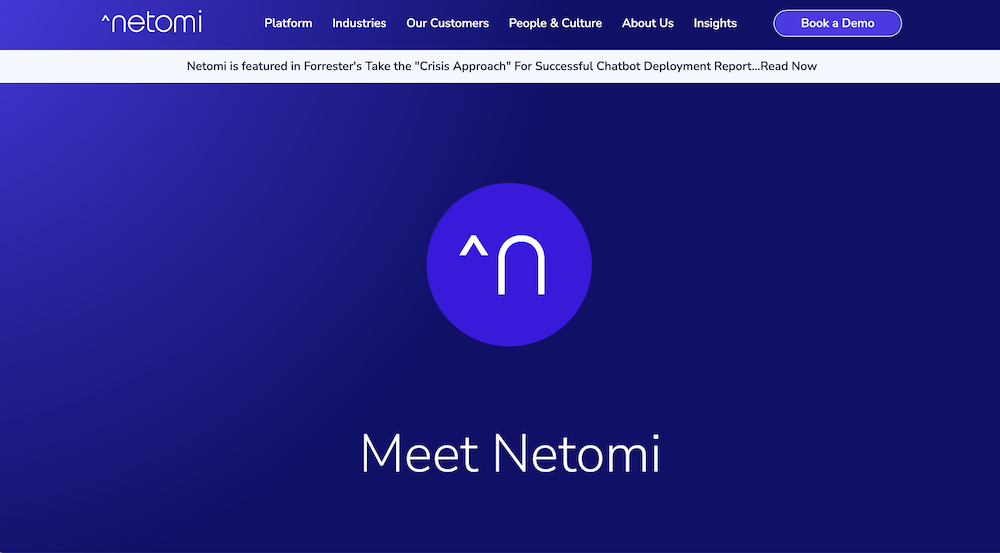 Lookin' to impress customers? Netomi's AI chatbot software is for you. With its AI-powered messaging engine, this chatbot can resolve customer inquiries with a whoppin' 70% accuracy rate—all without human intervention. (Just how we humans like it.) So whether your customers prefer chattin' online, or talkin' on the phone, or emailin' away, Netomi's got ya covered.
Key Features:
Lets you deliver fast, accurate, and efficient customer service through intelligent chabots and virtual assistants
Automates routine tasks and common issues, helping you reduce the workload on your customer support team
Easily integrates with popular CRM systems, messaging apps, and customer support platforms to provide a cohesive experience across multiple channels
Pricing: Custom
The most impactful marketers are doing it with AI marketing tools
Digital marketing is changing, and change can feel overwhelming. With so many tools and techniques available, it's tough to know where to start.
Rather than replace marketers, AI-powered tools can help you keep up. These tools are literally designed to streamline processes, provide actionable data insights, and save you time and money. Plus, they can take care of the mundane tasks, allowing you to focus on more creative and strategic aspects of marketing.
So leave those marketing dinosaurs behind, and embrace this brave new world.